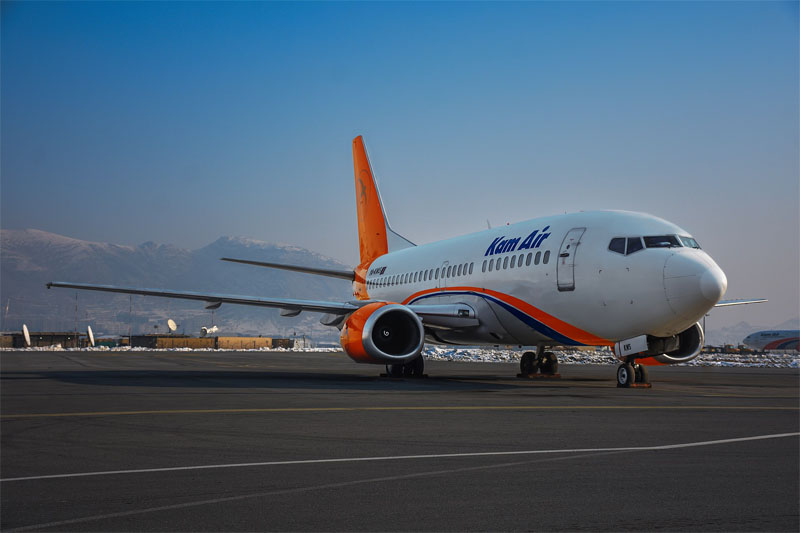 Kam Air was the FirstPrivateCommercial Airline established in Afghanistan under the dynamic and visionary leadership of it's founder, Mr. Zamarai Kamgar, and has over a period of time grown to become the name that is trusted as a safe and reliable airline by both the local and international community alike. Kam Air was the first private airline in Afghanistan to receive Air Operator Certificate (AOC Nr. 001) in August 2003 by the Ministry of Transport and Civil Aviation (MoTCA) of Afghanistan. Consequently, Kam Air was registered with International Civil Aviation Organization (ICAO) and International Air Transport Association (IATA) and also certified by the Afghan Civil Aviation
Authority (ACAA) in the same year. Operating since August 2003, the airline started its first domestic flight from Kabul to Herat and Mazar-i-Sharif using a B727-200 on 8th of November 2003. Kam Air's first international flight was
from Kabul to Dubai on 17th of May 2004.
Kam Air is ICAO compliant airlines operating a fleet of modern and reliable aircrafts like Boeing B767200, McDonnell Douglas MD-82/83/87 as well as an Airbus A320-200; providing our loyal customers with a wide range of Value-Added Services viz. large and comfortable seats, On-board Catering Services including Afghan, Uzbek and European Cuisine, Professional and Highly experienced Crew including Afghan and Foreign nationalities which is Customer oriented, Courteous and Multi-lingual. With the acquisition of a Boeing B747-200 Freighter aircrafts having cargo capacity of up to 105 tons, Kam Air has achieved the distinction of being the first and only airline in Afghanistan offering Air Logistics Solutions and Support to the Government and Non-Government Businesses aiding in increasing the economic activity manifold in Afghanistan and neighbouring economies.
Our fleet comprises of 23 aircraft which are:
1 x Airbus A320-200
1 x Boeing B767-200
4 x McDonnell Douglas MD83 / 3 x McDonnell Douglas MD87
2 x Boeing B747-200 Cargo
9 x Mi8 Helicopters
2 x Antonov AN24 / 3 x Antonov An74
KAM Air operates successfully on prestigious international routes including Dubai, New Delhi, Mashhad, Dushanbe, Almaty, Islamabad and Moscow and Herat, Mazar-i-Sharif, Kandahar, Tarin Kot and Bost on the domestic sectors; facilitating uninterrupted mobilization of human resources from different geographies of the world to the Land of Opportunities – Afghanistan.
Kam Air also offers charter service (charter passenger flights and cargo flights) in Afghanistan and the region providing reliable airplane and helicopter services for charter needs of the Afghan and International private organizations, government entities, VIPs and special missions requiring ad-hoc or long-term air services for their In bound and Out-bound operations from Kabul International Airport.